- The number of open workshop seats will be limited due to current government restrictions -

If you would prefer to get the information 1:1 click here for an appointment
Attention Rotator​ Cuff Pain​ Sufferers! Free Rotator​ Cuff​ Workshop
"New​ Rotator​ Cuff​ Workshop​ Reveals​ How​ to​ Get​ Back​ to​ Normal​ Without​ Medications, Injections​ and​ Surgery..."
Wednesday, Apr 15th
6:30 PM
4125 Dick Pond Rd Myrtle Beach, SC 29588
Enter Your Info Below To Register For The Workshop

We value your privacy and would never spam you
Go​ to​ the​ Rotator​ Cuff​ ​ Workshop​ and​ Learn:
1

The​ Single​ Worst​ Position​ to​ Sleep​ ​ in​ That​ Causes​ BIG​ Problems​ in​ the​ Shoulder​ and Rotator​ Cuff...

2

The​ #1​ Biggest​ Mistake​ People​ Suffering​ with​ Shoulder​ Pain​ Make​ Which​ Surprisingly Can​ Lead​ to Rotator​ Cuff​ ​ Surgery...

3

The​ Common​ Causes​ of​ Rotator​ Cuff​ Problems...

4

The​ Top​ 3 Exercises​ for​ the​ Rotator​ Cuff...
Who​ is​ the​ Workshop​ For?
The​ Rotator​ Cuff​ Workshop​ is​ for​ people​ suffering​ with​ shoulder​ pain​ who​ are​ looking​ to​ feel normal​ again​ and​ heal​ naturally​ without​ medications,​ injections​ and​ surgery.
Do​ you​ have​ shoulder​ ​pain​ when​ you:
1

2

3

Reach​ behind​ your​ back?

4

5

Reach​ into​ the​ back​ seat?

6

Do​ work​ around​ the​ house​ or​ yard?

7
Enter Your Info Below To Register For The Workshop

We value your privacy and would never spam you
If​ you​ do​ AND​ you're​ looking​ for​ Natural,​ Non-Invasive​ Treatment,​ then​ Save​ Your​ Spot​ for​ the Rotator​ Cuff​ Workshop​ by​ filling​ in​ your​ name​ and​ information.

***Because​ ​of​ space​ limitations,​ the​ Rotator​ Cuff​ Workshop​ is​ limited​ to​ the​ first​ 20 Registrants...
What Do Others Have To Say About The Rotator Cuff Workshop?
"Having been through two physical therapists for extreme pain in my right shoulder & moderate pain in my left shoulder with no improvement (in fact, I was even more injured), I went to an orthopedic surgeon who did an x-ray & MRI and advised rotator cuff surgery. The pain in my right shoulder was bad enough to convince me he was right. So, I scheduled the surgery. However, in a phone conversation with my brother, he spoke of Chris saying that he had been able to drastically improve his back pain and that I should give him a try. I did just that & it has been the best health choice I've ever made. I cancelled the surgery & started therapy with Chris. My shoulder pain is diminished enough so that I'm back to playing golf & doing all the things I love. I'm getting stronger with no pain or thoughts of surgery thanks to the knowledge & care of Chris. Not only do I consider him a wonderful therapist who works directly with me at each appointment, I consider him a good friend & a great guy."
George Rollins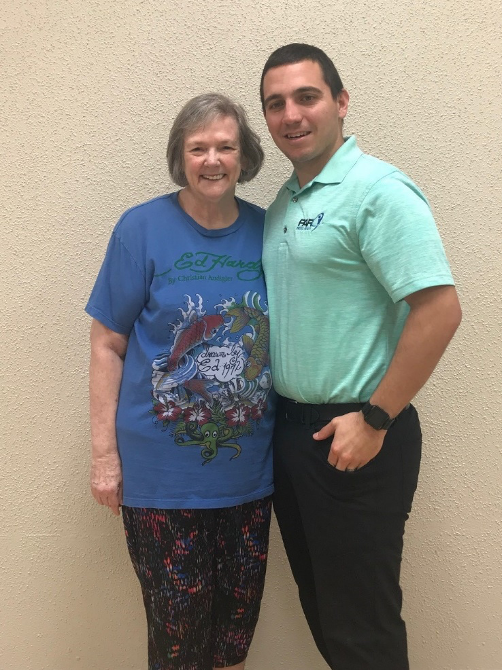 I had injured my right shoulder in 2012. I couldn't raise my arm above my shoulder. While working out at the gym, I had trouble with a lot of exercises and couldn't use weights over 2 pounds. When Chris started at the gym, I went to him for help and he had me raising my arm over my head the first time in 7 years on my first visit without even touching my arm. Now, 6 weeks later with exercise and laser treatment, I am getting stronger and am pain free. I would recommend Chris with 5 stars to anyone who needs physical therapy. The gym is lucky to have him here.
Karen Hardy
Prior to PT I had numerous sleepless nights due to the pain in my shoulder. I had no idea how I injured my shoulder, but the pain had been ongoing for approximately 6 months. After being referred to Chris from a co-worker, I scheduled an appointment and brought my wife for safe keeping. Not only was Chris able to pinpoint exactly what I had injured, treatment and relief began that day. After working on my shoulder, a simple question about my wife's back pain turned into treatment and relief for her back pain. Over the course of 2 months of treatment using dry needling and laser therapy my shoulder is as good as new. I went from being unable to lift a 10 LB weight to being able to do pull-ups and pushups. The visits to physical therapy was anything but another typical doctor visit. Chris is awesome both as a therapist and a person.
Josep Fisher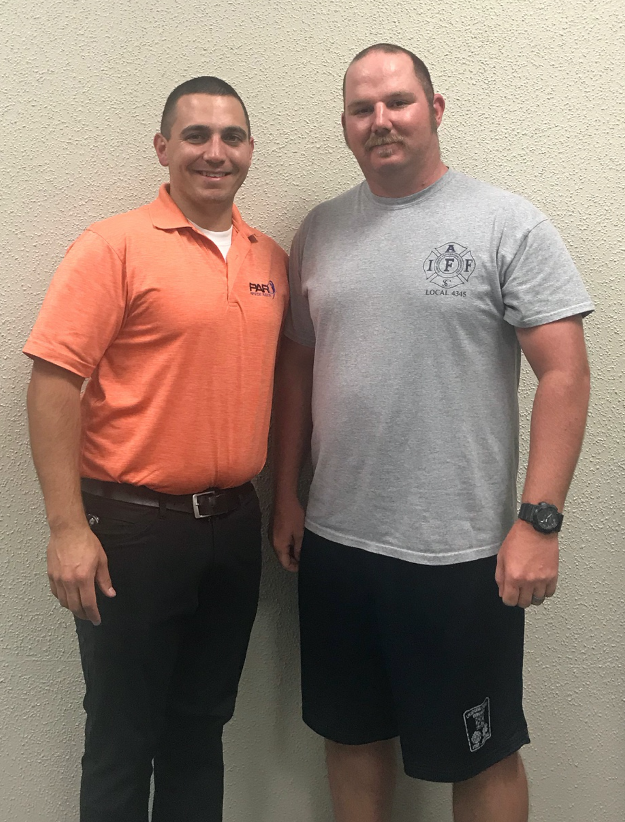 We have limited spots available and space will fill up fast, so register now to avoid missing out.